Pediatric dentists focus on the oral health of children, from infants right up to adolescents. Throughout childhood, our teeth, gums, and mouth go through various stages of development. At each stage, dental care is needed to ensure optimal oral health and to reduce the risk of problems in the future.
Pediatric dentistry in Jackson, Wyoming enables you to access fantastic dental care for your children. As well as introducing infants to the world of dentistry and making their first trip to the dentist a positive experience, your pediatric dentist can provide a wide range of services, including: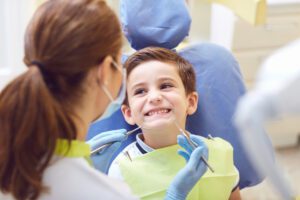 Preventative Dental Care
Prevention is always better than cure, which is why it's so important to take your children for regular dental check-ups. With routine cleaning and fluoride treatments, for example, your dentist can reduce the risk of your child developing cavities and other dental problems. In addition to this, your pediatric dentist plays a crucial role in helping your child to learn how to care for their teeth.
Teeth Straightening
Many teenagers wear braces to correct their bite and improve the alignment of their teeth. Often, this process begins as early as 12 or 13 years of age. With pediatric dentistry, however, you can ensure your child has access to early intervention for orthodontics. As pediatric dentists can often determine whether your child will require orthodontic treatment from a young age, getting the right intervention can minimize the amount of treatment needed in the future.
Identification of Oral Conditions
There are numerous oral conditions and symptoms which are linked to other health problems. Oral health can be linked to asthma, diabetes, and even ADHD, for example. In many instances, it is dentists who first identify the presence of such conditions. By taking your child to a pediatric dentist from an early age, you can ensure that any potential conditions are diagnosed swiftly so that the appropriate treatment can be obtained.
Tooth Restoration and Intervention
It's not unusual for children to require tooth repairs as they get older. If your child develops a cavity, for example, they may need a filling in order to repair it. Alternatively, teenagers may require wisdom tooth extraction in Jackson, Wyoming. As pediatric dentistry allows dental professionals to focus solely on dental care for children, you can be confident that they will be well equipped to calm the patient's nerves and provide the reassurance they need.
Repair of Dental Injuries
As children grow, it's not unusual for them to damage their teeth in some way. A child might fall over and knock a front tooth out, for example, or suffer a cracked tooth while playing sports. Your pediatric dentist can assess any dental injuries your child has sustained, and implement an appropriate treatment plan.
Schedule a Pediatric Dentistry Appointment Now
If you're looking for a pediatric dentist in Jackson, Wyoming, contact the team at Dental Care of Jackson Hole. Simply call us at (307) 732-2273 and we'll be happy to schedule an appointment for you.