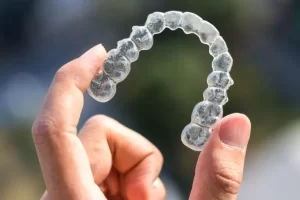 Do you want to have the perfect smile but don't want to deal with the pain and hassle of metal braces? Dental Care of Jackson Hole offers Invisalign, an orthodontic system that uses clear aligners to straighten your teeth without the pain and anxiety associated with metal braces. It's a proven technology that has helped millions achieve the smile they've always wanted. And since the clear aligners are nearly invisible, most people will never know you're straightening your teeth.
What is Invisalign, and How Does it Work?
Invisalign in Jackson is a transparent aligner system that uses a series of clear, custom-made aligners to straighten your teeth gradually. The Invisalign system uses computer imaging technology to create a virtual 3D model of your teeth. This model is used to design a personalized treatment plan for straightening your teeth.
Once we create your treatment plan, a series of clear aligners are custom-made for you. You will wear each aligner for about two weeks. When ready, you'll move on to the next in the series. As you wear each aligner, your teeth will gradually and gently move into place.
Who is a Good Candidate for Invisalign?
Invisalign is a good option for Jackson adults and teens with mild to moderate teeth misalignment. Invisalign is not recommended for children because their teeth are still growing and developing. Invisalign is also not recommended for people with severe misalignment of their teeth or specific bite problems. 
The best way to determine if you are a good Invisalign candidate is to schedule an appointment with Dr. Paula J. Schmidt.  She can evaluate your teeth and develop a treatment plan based on your dental goals and budget.
How Long Does the Treatment Take?
The length of treatment depends on the severity of your misaligned teeth. However, most expect to wear Invisalign for about 12 to 18 months. You should wear your aligners for about 22 out of every 24 hours.
What are the Benefits of Invisalign?
Jackson Invisalign has many benefits over traditional metal braces:
The clear aligners are nearly invisible and discrete, making Invisalign a great option for teens and adults who don't like the look of traditional metal braces.

You can remove the aligners to eat and brush your teeth, making it easier to maintain good oral hygiene.

Invisalign is more comfortable than traditional braces because there are no metal wires or brackets to rub against your gums and cheeks.

Invisalign treatment can be faster than traditional braces, with most people achieving their desired results within 12 to 18 months.
How Much Does Invisalign Cost?
The cost of Invisalign treatment can vary depending on several factors, including the severity of misalignment. However, many dental insurance plans cover Invisalign treatment or offer a discount. Dental Care of Jackson Hole provides quality, accessible dentistry and participates in the CareCredit financing program to help patients manage costs. We also work with most major insurance plans. Contact us today to schedule a consultation to get an estimate of your treatment costs.
Get Started on Straighter Teeth With Invisalign in Jackson, Wyoming
You can have the perfect smile in as little as 12 months with Invisalign. Plus, since Invisalign aligners are removable, you can eat whatever you want and brush and floss like normal. They are also comfortable and easy to wear, so you can get on with your life while your teeth are straightening. There are no dietary restrictions or complicated brushing instructions – so you can focus on having a great smile, not following rules.
Schedule your free consultation at Dental Care of Jackson Hole in Jackson, Wyoming. Find out how Invisalign can help you get the perfect smile! We look forward to helping you achieve a more beautiful smile with straighter teeth.