Our Jackson WY family dentistry service has been in operation for years and we always make sure that we give our customers the service that they know and love. Of course, if you are nervous about signing up with a dentist or if you are concerned about having any treatment done then you have nothing to worry about. It's very normal for you to feel nervous about going to the dentist, but when you come through our service, you will soon find that we can work with you every step of the way.
What is Family Dentistry?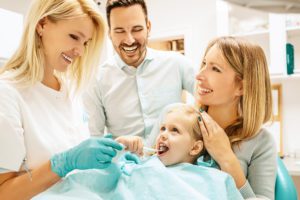 Family dentistry often addresses your oral hygiene at every stage of your life. It's important to understand that children have very different health requirements when compared to adults, so you need to make sure that you choose a family dentist that is able to meet all of these requirements and more. That is why our family dentist is trained to the highest possible level, meaning that they can look after your baby's new teeth all the way to their permanent teeth. We are able to offer regular cleanings, cavity identification, gum disease treatment and even regular cleanings as well.
Gentle Approach
Our family dentist in Jackson WY know how your child's teeth change with age and they are also aware of the fact that children might be scared of going to the dentist as well. That is why our gentle approach is often appreciated by parents and guardians. We believe in helping your child to develop a positive association with check-ups and dentistry, while also helping them to build good hygiene habits that will last a lifetime.
Our Team
We believe in hiring the best dentists in the industry. We also make sure that we go the extra mile wherever possible. It doesn't matter if you need someone who can look after your whole family's oral health or whether you just need someone who you can trust to give your kids the treatment that they need because we can do it all and more. Of course, when you come through our service, we will first start by looking at your family history. When we have done that, we will then work with you to make sure that you are given a high level of care and support throughout the entire sign-up process.
If you do ever need treatment, then our team will create an appointment for you, and we will also work with you to make sure that it's at a time that suits you. It's this level of care and attention that helps us to stand out from the crowd and it's also the reason why our loyal patients come to us time and time again. If you want to find out more about our family dentistry service in Jackson WY or if you want to try and find out if we can do anything to help you with your questions and queries, then the only thing that you need to do is get in touch with us today.