At Dental Care of Jackson Hole, we're proud to offer a wide range of dental services. With an experienced team of support staff, two full-time dentists, and on-site dental hygienists, we're always on hand to provide the professional dental care you need.
From routine cleanings and preventative intervention to tooth repairs and restorations, we can resolve any issues and get you smiling again. However, we don't stop there. With a full complement of cosmetic dentistry treatments available, we can enhance your smile and boost your confidence too. Whether you want to whiten your teeth, straighten your smile or restore your bite with dental implants, our experienced dentists can advise you on the right course of treatment.
If your teeth and gums need a little extra care, you'll be pleased to know we offer orthodontics and oral and maxillofacial surgery on site too. With no need to refer you on for treatment, we can undertake extractions, bone grafts, TMD therapy, and orthodontics on site too.
To find out more about our practice or the services we provide, contact Dental Care of Jackson Hole now at (307) 732-2273.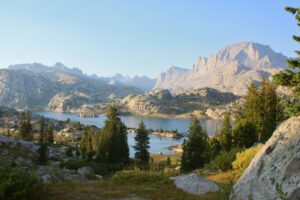 About Pinedale, WY
Situated in Jackson, WY, we welcome patients from surrounding areas, including Pinedale, Palisades, and Alpine. Many patients located near Pinedale, WY choose Dental Care of Jackson Hole as their dental practice because of our outstanding reputation and the wide range of treatments we offer. If you live locally and you're looking for a dentist near Pinedale, WY, why not talk to our team today?
Widely known as the Gateway to the Wind River Mountains, Pinedale is a small yet spectacular part of the state. If you want to explore the great outdoors, there's certainly no better place to do it. The Wind River Mountain Range stretches over 100 miles and there are 35 named peaks stretching to elevation levels of more than 13,000 feet. For hikers, climbers, and adventurers, there are endless routes and trails to explore.
However, you don't have to don your climbing gear to make the most of Pinedale. With Fremont Lake nearby, it's the perfect place to go kayaking, fishing, windsurfing, canoeing, and sailing. You can even take part in the annual Fremont Lake Sailing Regatta or enroll in one of the many fishing derbies held throughout the year.
If that's not enough, don't forget to explore the wildlife in the Bridger-Teton National Forest Home to black bear, mule deer, eagles, osprey, moose, and much, much more, the Forest covers 3.4 million acres and more than 3,000 miles of roads and trails, so you'll never run out of places to explore when you get out in the wilderness.
As you can see, we're thrilled to include Pinedale amongst the areas we serve, and we look forward to welcoming local residents to our practice. Whether you're new to the area or your family has called Pinedale home for generations, you can rely on Dental Care of Jackson Hole to provide the dental care you need.